The construct GFP-KDEL was made from a part of the ECast/PDI gene and includes the S65T GFP mutant of Heim, Cubitt and Tsien.

From the ECast/PDI mRNA sequence, we used the seven nucleotide untranslated kozak sequence (cttaaaa), 17 amino acid signal sequence and first 11 amino acids of the mature form of ECast/PDI. There was a two amino acid linker (leucine glutamic) followed by the entire S65T GFP mutant. At the end was the 4 amino acid ER retention sequence KDEL.
GFP-KDEL is in the vector pSP64-S, with EcoR1 (start) and Bgl2 (end) restriction sites. Use BamH1 for linearizing the vector. mRNA was made using the RNA polymerase SP6; the mRNA made contains 5' and 3' untranslated regions of xenopus globin mRNA .
Nucleotide sequence (from EcoR1 to Bgl 2 sites)
gaattccttaaaaatgaagtatttggctctttgttttattgctctggcct
gtgcggtccatgccgcagtcgaggtcgaaatcgaagaagatgtcgctctc
gagatgagtaaaggagaagaacttttcactggagttgtcccaattcttgt
tgaattagatggtgatgttaatgggcacaaattttctgtcagtggagagg
gtgaaggtgatgcaacatacggaaaacttacccttaaatttatttgcact
actggaaaactacctgttccatggccaacacttgtcactactttctctta
tggtgttcaatgcttttcaagatacccagatcatatgaaacagcatgact
ttttcaagagtgccatgcccgaaggttatgtacaggaaagaactatattt
ttcaaagatgacgggaactacaagacacgtgctgaagtcaagtttgaagg
tgatacccttgttaatagaatcgagttaaaaggtattgattttaaagaag
atggaaacattcttggacacaaattggaatacaactataactcacacaat
gtatacatcatggcagacaaacaaaagaatggaatcaaagttaacttcaa
aattagacacaacattgaagatggaagcgttcaactagcagaccattatc
aacaaaatactccaattggcgatggccctgtccttttaccagacaaccat
tacctgtccacacaatctgccctttcgaaagatcccaacgaaaagagaga
ccacatggtccttcttgagtttgtaacagctgctgggattacacatggca
tggatgaactatacaaaaaggatgaactttaaagatct
---
SP64-S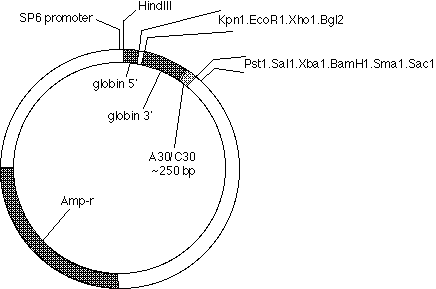 Krieg, P.A., and Melton, D.A. 1984. Functional messenger RNAs are produced by SP6 in vitro transcription of cloned cDNAs. Nucleic Acids Research 12: 7057-7070.
The globin 5' and 3' untranslated regions are from Xenopus.
Annotated nucleotide sequence of SP64-S in the vicinity of the SP6 promoter
---
Lucero, H.A., Lebeche, D., and Kaminer, B. 1994. ER calcistorin / protein disulfide isomerase (PDI): sequence determination and expression of cDNA clone encoding a calcium storage protein with PDI activity from endoplasmic reticulum of the sea urchin egg. J. Biol. Chem. 269: 23112-23119.
ECast/PDI is a resident luminal protein of the ER in sea urchin eggs.
Heim, R., Cubitt, A.B., and Tsien, R.Y. 1995. Improved green fluorescence. Nature 373: 663-664.
Munro, S., and Pelham, H.R. 1987. A C-terminal signal prevents secretion of luminal ER proteins. Cell 48: 899-907.